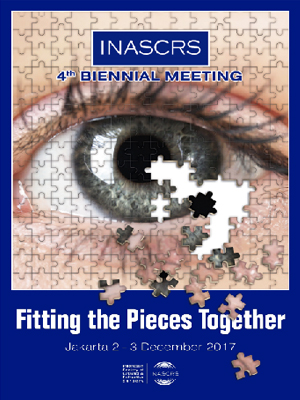 The 4th INASCRS Biennial Meeting 2017
Pullman Hotel, Central Park - Jakarta
December 02, 2017 - December 03, 2017
---
Dear Friends and Colleagues,
According to the National Survey in 2014 blindness due to untreated cataract in Indonesia is 0.78% of population, and it is the highest in South East Asia. The untreated cataract occurs mostly in remote areas and hurts the group of people in the range of 50 – 65 years. As a nation Indonesia suffers tremendously due to the economic and social dependence of the patients.
One of the solutions to decrease the cataract blindness rate is to perform more surgery by way of increasing training and retention of eye surgeons. INASCRS initiates this approach and realizes it can only be achieved successfully through building integrated cataract training centers and training partnerships with local eye clinics.
The first training center was fostered in 2015 at Ainun Habibie Eye Clinic, Bogor. Since then there have been more local eye centers become INASCRS training centers partners, namely Jambi Eye Center, Malang Eye Center, Bandung Eye Center, Semarang Eye Center, and many more are in the process of obtaining the partnerships arrangement. With these cornerstones in place throughout the country optimistically they will accelerate the number of surgeons wherein they could provide much-needed care to patients and pass on the knowledge and training to future surgeons.
In addition, increasing number of surgeon approaches, promoting and providing educational opportunities such as continuing medical education and development opportunities are essential to the advancement in the competencies and surgical techniques. Therefore, the 4th INASCRS biennial meeting is held on to accommodate Indonesian Ophthalmologists learning from prominence local and international surgeons. Great number of renown local and international speakers have given their interests to join the meeting and you don't want to miss it!
So come and join us, together we can combat the cataract blindness.
Sincerely,